TPRO In-wall to In-Ceiling Conversion

TPRO Main
There are three problems when using in-wall speakers for ceiling installation:
1. The weight of the speakers may cause the ceiling drywall/sheetrock to bow.
2. Ceiling insulation, especially if of the blown-in type, may actually touch the speaker cones.
3. Cold/hot temperature extremes.
I solved these problems by building plywood enclosures to surround the backs of the speakers.
1/2 " plywood fit perfectly into the groove of the inwall frame.
Then I mounted the boxes in the ceiling butting them against a ceiling joist. Then I drove screws from the inside of the box into the joist. This helped support the weight of the speaker and wood enclosure. Actually you don't need to offset the entire weight of the speakers/enclosures. The ceiling can handle some added weight, but I played it safe; especially since I built the enclosures with as thick of plywood that the frame channel would allow. See picture and drawing below.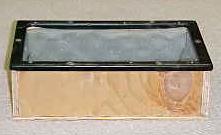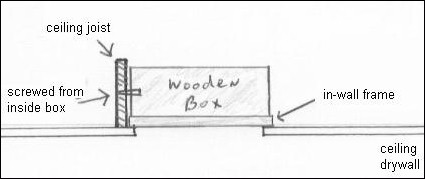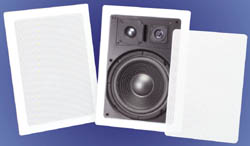 These are Dayton Loudspeaker 8" three-ways #300-427
purchased at Parts Express